About Oxyfresh
We all agree that smiles make the world a more beautiful place. And for over 30 years, we've made it our mission to help people like you feel great about their smile.
Our secret is Oxygene®. From the beginning, people loved what they saw from this brilliant ingredient. Fresh breath was more than just possible, it was easy! People noticed that their breath was fresher and their smiles healthier and brighter. In other words, they could smile and breath with confidence. And it felt great.
Then, our loyal customers asked that we use our nerdiness (err…scientific expertise) to make these same amazing products for their pets. Seeing how we love our own furry kids so much, we thought it was a purrrfect idea. And the pet product line was born! Pets across the country have been enjoying cleaner mouths, healthier joints, and better smelling coats. (Their owners are big fans too.)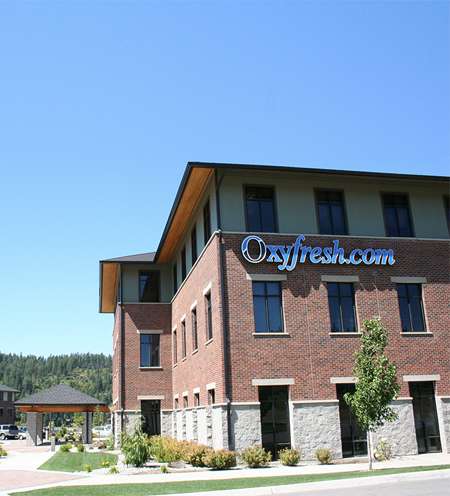 So everyday, we get to be part of a movement: filling the world with brighter smiles, fresher breath, and healthier pets. And we love it!
What Makes Us Different?  Science + Passion = Our family friendly formulas.
1. It's more than just a philosophy – our formulations are unique. Our philosophy is to work in partnership with science and the best that mother nature has to offer. Many of our products are powered with Oxygene®: a brilliant, safe, non-toxic ingredient that neutralizes bad breath and pesky odors on a molecular level. You see, most smells (like bad breath and pet odors) are caused by these little guys known as "volatile sulfur compounds" or VSC's for short. Oxygene® gently and naturally dissolves the bonds of these sulfur compounds, completely eliminating bad smells at their source – instead of covering them up or using harsh ingredients like alcohol that has side effects.
2. Our products are safe. We stay away from alcohol, dyes, and harmful chemicals. Instead, we use all-natural xylitol and essential oils to flavor our products (we're big fans of Mother Nature). Our toothpastes are low-abrasion to protect your precious tooth enamel.
3. Our products are effective. We put science to work for you. We combine beneficial ingredients like zinc and folic acid with our patented formula, Oxygene®, to give you results that are unlike anything else. Sure we've got clinical studies that say we're awesome, but what we really love are the countless testimonies that keep coming in.
100% Money-back guarantee
Oxyfresh has complete confidence in the unsurpassed excellence of our products. That's why we offer a 100% money-back guarantee (excluding shipping) within 30 days of your purchase.
It's not just people like you and me who are loving Oxyfresh.  
Dentists, veterinarians, oral surgeons, groomers – pet and dental professionals of all kind – have plenty to say about the products they use, love, and recommend. Let's hear from the Pro's:
"My patients' plaque levels are measurably reduced as a result of using Oxyfresh's Power Rinse and Toothpaste. Having practiced hygiene for over 20 years, I have never experienced a system as effective. My patients all love the taste, their fresh breath, and the clean feel of their mouth. I have a couple in the practice who swears that Oxyfresh saved their marriage!

Chana
Deerfield Beach, FL
Pet Professional – Recommending for 12 years

"Oxyfresh products have been an integral part of our office for over 15 years. Our patients love how it makes their mouth feel clean and fresh without the unnecessary coloring and abrasiveness."

Kimberly
Fullerton, California
Dental Professional – Recommending for 15 years

"We had a dog visit our animal hospital who had terrible teeth and desperately needed a professional cleaning. The dog's owner did not have the money to pay for the cleaning, so we immediately started the dog on the Pet Oral Hygiene Solution. At the dogs next check-up, a year later, his teeth were like new. The owner used the Pet Oral Hygiene Solution, daily, for a year and the dogs teeth are like new. There's no longer a need for the cleaning. We are all amazed at the difference."

Judy
Bedford, NH
Pet Professional – Recommending for 7 years

"I've tried other ear cleaners in my practice. However, Oxyfresh Pet Ear Cleaner is the most tolerated by pets, with no stinging or burning effect. It's also a great emulsifier."

Allison
Johnston, IA
Pet Professional – Recommending for 9 years