Pro Formula Fresh Mint Dental Gel (1oz)
RM25.00
Highly Recommended By Dental Surgeons For Its Soothing And Healing Relief
This powerful, fast-acting Pro Relief Dental Gel is safe for the entire family and perfect for anyone who suffers from dental issues like sore gums, dry mouth, chronic bad breath (halitosis), periodontal support, oral surgery, canker sores, irritated tissues, etc.
Oxyfresh Delivery Time
Your product is estimated to arrive within 3 working days.
Free shipping to anywhere in Malaysia for orders of RM 150 and above!


Description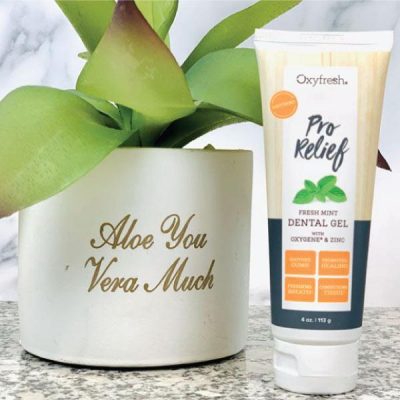 Discover About Our Dental Gel
Mouth irritations are not fun and can take time to heal.
We carefully formulated this ultra-versatile gel to offer soothing and concentrated deodorizing benefits along with unsurpassed tissue-conditioning properties. You won't find a dental gel like this anywhere else!
Our gel formula contains a therapeutic blend of ingredients, including aloe vera, chamomile, folic acid and essential mint oil. It's infused with our patented combination of Oxygene® and zinc to provide moisture and soothing relief you can count on.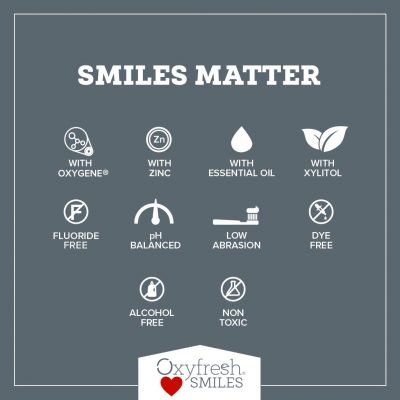 What Makes Us Different
Born from the idea that real dental care doesn't need to cut corners, our products are made with only the best ingredients that science and Mother Nature have to offer.
We don't use harsh alcohol or artificial dyes that can stain teeth. Just ingredients you can always feel good about. That's our promise.
Most dental care products have a high percentage of alcohol. These ingredients only mask bad breath, providing temporary fix. They also dry out the mouth which actually makes bad breath worse.
Introducing our unique and exclusive Oxygene®: a brilliant, safe-for-families, non-toxic ingredient that neutralizes bad breath on a molecular level.
This safe, non-toxic formula helps keep breath fresh and smiles healthy with our innovative dental care products.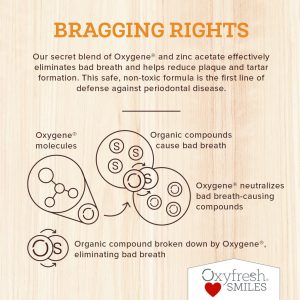 Specialty Of Our Fluoride Dental Gel
Infused with xylitol and fluoride, Fluoride Dental Gel provides soothing and deodorizing properties along with cavity-fighting protection.
It contains neutral sodium fluoride that protects against cavities and reduces sensitivity. This formula is naturally flavoured with essential spearmint oil, which provides a safe and natural soothing effect that is also gluten free.
This gel contains Oxygene®, that safely destroys odours at their source by attacking volatile sulfur compounds (VSCs); and the harmful effect they have in the mouth.
If you avoid your favorite food and drinks due to tooth sensitivity, it's time to take back control with Oxyfresh Fluoride Dental Gel. This gentle formula strengthens your tooth enamel and protects your gums.
All in a convenient gel that's safe, effective and easy to apply!
How Can Our Fluoride Dental Gel Help You
Protects Your Teeth From Cavities
Strengthening teeth
Reducing Tooth Sensitivity
Suitable For Dental Implants
Tenderness In Your Gums And Tongue
Healing Soft Tissue
Perfect Application When You've Bitten Your Tongue Or The Inside Of Your Mouth
Perfect Application For Fever Blisters
Perfect Application For Mouth Sores
After Tooth Extractions And Dry Sockets
Enflamed Gums
Dry Mouth
Pizza Burns In The Mouth
Keeping Acidity Under Control
Clinical Applications
For extraction sites to insert using monoject-type syringe or place on gauze
For those under immediate dentures
For crown preps as part of performing dip retraction cord prior to insertion for more precise impression
For temporary crowns to apply along gumline to enhance healing and alleviate post-operative discomfort
For following scaling, root planning or laser treatment when using syringe sub gingivally and along gingival margins for enhanced healing and to alleviate post-operative discomfort
During scaling when using instrument, carry to depth of pocket
And Ideal For Dental Related Issues Such As
Caries-prone individuals to apply along tissues with Oxyfresh Health Brush
Orthodontic treatment to apply daily after final rinse to reduce the risk of gingival irritation and demineralization of the enamel
Those with sensitive teeth
At-home fluoride treatment to place in custom fluoride or whitening trays
Dry mouth sufferers to apply along tissues with cotton-tipped applicator or Oxyfresh Health Brush
Those undergoing chemo and/or radiation therapy to provide relief and protection from dryness, irritation, soreness and risk of caries
Oxygene: Non Fluoride Toothpaste
When it comes to cavity prevention, we went with what the pros use: non-staining neutral sodium fluoride. This tried-and-true active ingredient has been shown to strengthen enamel, resulting in a cavity-free smile. Our non fluoride toothpaste Malaysia is guaranteed to be gentle on your enamel, with one of the lowest abrasion indexes on the market, so you can enjoy all of your favorite hot/cold foods and drinks once more. This non fluoride toothpaste Malaysia includes everything you need for superior cavity prevention, everyday whitening, and off-the-charts fresh breath. We prefer to be cautious when it comes to your enamel, which is why we rely on the gentle scrubbing power of hydrated silica (think smooth gel sand) to keep your pearly whites stain-free without sensitivity. This is where our unique ingredient Oxygene® shines. It actively seeks out nasty breath-causing compounds and eliminates them, just like in the cartoons.
Benefits
The List of Benefits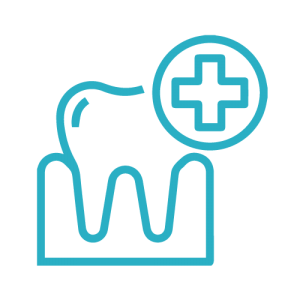 PROMOTES HEALING
Unrivalled at neutralizing bacteria and hydrating the tissue to help promote healing.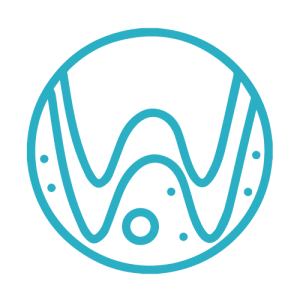 SOOTHES GUMS & CANKER SORES
Works to quickly soothe sensitive gums. It's perfect for new dental implants or after a visit to the dentist.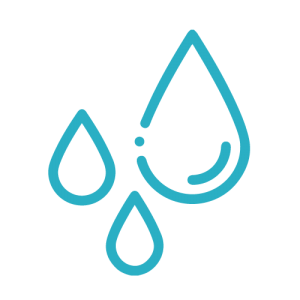 FORMULATED TO PROVIDE MOISTURE
Specialized ingredients that help condition and provide moisture to dry and irritated tissue.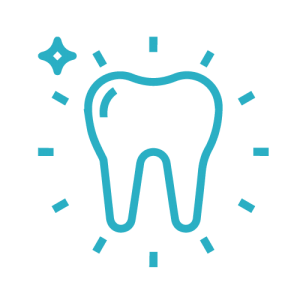 SUPER RELIEF
Ultimate relief to help soothe mouth sores caused by bitting inner cheek, canker sores or burns from hot foods.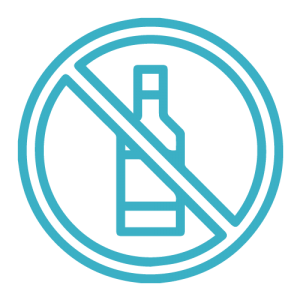 ALCOHOL FREE
We didn't jump on this bandwagon; we pioneered it. Our formula protects your smile without burning or dehydrating your tissues.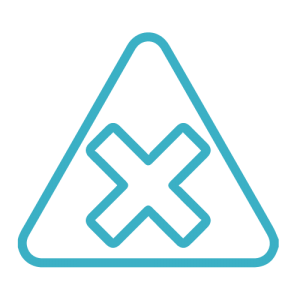 NON-TOXIC for the entire family
The safest way to protect smiles is to avoid harsh chemicals, additives, artificial sweeteners, agents, etc. We use only ingredients that matter for true dental health and are safe for the entire family.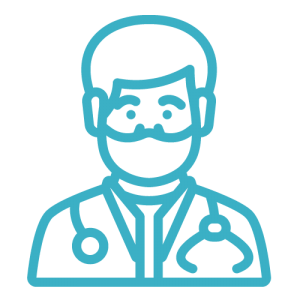 DENTIST APPROVED
For over 34 years, dental professionals have loved and recommended our innovative dental care products.
Suitable For Everyone Who Enjoys Effective Dental Care
Whether it's for you or your family, nothing beats a healthy dental care that makes the biggest of differences in your lives.
Ingredients
Active Ingredients

Fluoride: Helps remove plaque and prevent tooth decay.

Aloe Vera: Soothes, promotes healing, helps ensure nutrient absorption.

Oxygene® (Sodium Chlorite): Disrupts bacterial colonization, oxidizes volatile sulfur compounds, stops bad breath, helps disinfect.

Xylitol: Inhibits the growth of the bacteria that causes cavities.

Essential Oils: Naturally flavored using a unique blend of soothing essential oils.
Ingredients:
Water (Aqua), Xylitol, Chondrus Crispus (Carrageenan), Sodium Chlorite (Oxygene® – Stabilized Chlorine Dioxide), Aloe Barbadensis Leaf Juice, Chamomilla Recutita (Matricaria) Extract, Mentha Viridis (Spearmint) Leaf Oil, Propylene Glycol, Methylparaben, Propylparaben
Recommended Use
How to Use
Apply Dental Gel liberally to clean affected tissue, leaving on for several minutes. Expectorate gel and do not drink or eat for at least 30 minutes. For children under six years of age, consult a dentist or physician.