Pro Formula Fresh Mint Mouthwash (16oz)
RM40.00
Gentle On Your Smile, Tough On Bad Breath
Dental Pros love this patented Pro Formula mouthwash. It's perfect for anyone who has veneers, sensitive teeth and gums, or uses whitening products and is looking for a gentle yet effective solution to fresh breath and a healthy smile.
Oxyfresh Delivery Time
Your product is estimated to arrive within 3 working days.
Free shipping to anywhere in Malaysia for orders of RM 150 and above!


Description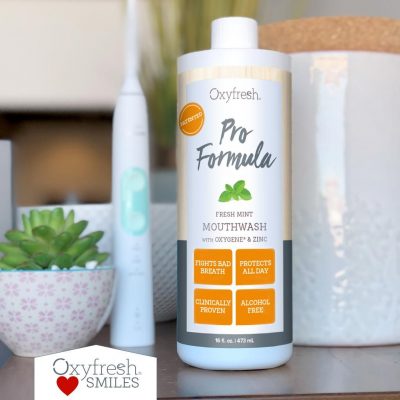 Discover About Our Pro Formula Mouthwash
There's nothing like a refreshing breath that gives you that confidence to do great things!
Our innovative Pro Formula Mouthwash delivers that much needed fresh breath. We don't use harsh alcohol, dyes, artificial sweeteners or highly abrasive ingredients that can stain or harm dental cosmetic work.
It is powered by our unique, patented combination of Oxygene® and zinc to completely eliminate bad breath. Yet it's incredibly gentle with a natural, light essential peppermint oil that soothes and conditions your delicate smile and gum tissue.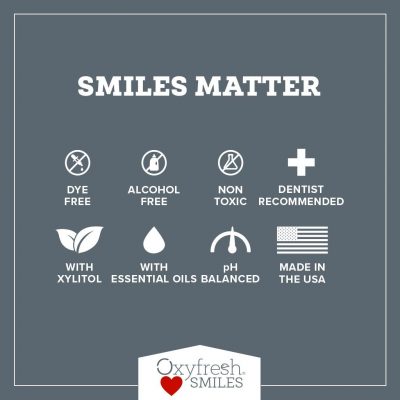 What Makes Us Different
Born from the idea that real dental care doesn't need to cut corners, our Pro Formula oral care mouthwash are made with only the best ingredients that science and Mother Nature have to offer.
We don't use harsh alcohol or artificial dyes that can stain teeth. Just ingredients you can always feel good about. That's our promise.
Most mouthwashes have a high percentage of alcohol. These ingredients only mask bad breath, providing temporary fix. They also dry out the mouth which actually makes bad breath worse.
Introducing our unique and exclusive Oxygene®: a brilliant, safe-for-families, non-toxic ingredient that neutralizes bad breath on a molecular level.
This safe, non-toxic formula helps keep breath fresh and smiles healthy with our innovative dental care products.
Why Choose Our Pro Formula Mouthwash
Professional graded mouthwash which gives you fresh breath confidence up to 6 hours
Alcohol-free for fresh breath without the burn or sting
Dye-free. Non-staining formula protects your white, bright smile
Peace of mind: dentists use, love and recommend our products every day
Flavored with essential oils, no artificial flavors
Sweetened with xylitol, a natural sweetener that fights plaque
12-month clinical study showed that Oxyfresh mouthwash, our Pro Formula oral care mouthwash is better than the "big boys" at reducing plaque, strengthening gum tissue, and improving receding gums. (Booyah!)
Get To Know Our Secret Ingredient
What makes Oxyfresh mouthwashes so special? Our exclusive odor-fighting ingredient, Oxygene®.
This safe, non-toxic ingredient literally dissolves odor-causing molecules, leaving you with fresh, kissably-close fresh breath. Fast-acting and proven to wipe out bad breath for up to 6 hours, you won't find this ingredient anywhere else.
In fact, our Oxygene®-based mouthwashes are enthusiastically recommended by dentists and customers like you who want the absolute best for fresh breath.
Benefits
The List of Benefits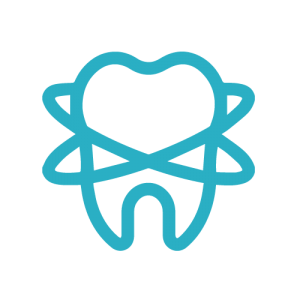 ULTIMATE PROTECTION
Formulated to protect and support delicate cosmetic dental work and pearly whites with fast-acting ingredient Oxygene®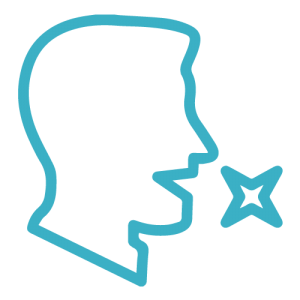 INSTANT, ALL-DAY FRESH BREATH
Finally say goodbye to bad breath with our fast-acting, patented formula of Oxygene® and zinc. We don't just mask bad breath; we safely neutralize it at the source in just 60 seconds.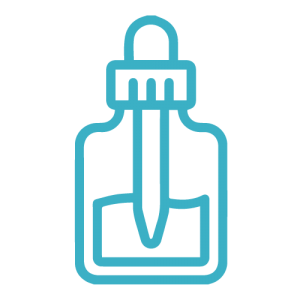 ESSENTIAL OIL
Infused with natural essential oil, leaving smiles feeling completely fresh and clean without an aftertaste.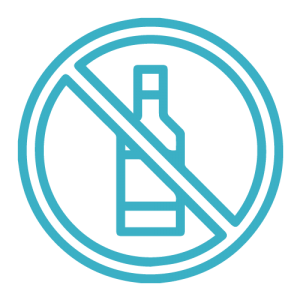 ALCOHOL FREE
We didn't just jump on this bandwagon; we pioneered it. Our formula protects your smile without burning or dehydrating your tissues.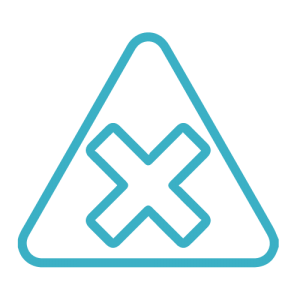 NON-TOXIC for the entire family
The safest way to protect smiles is to avoid harsh chemicals, additives, artificial sweeteners, agents, etc. We use only ingredients that matter for true dental health and are safe for the entire family.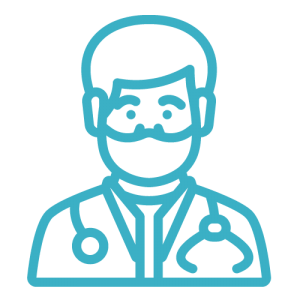 DENTIST APPROVED
For over 34 years, dental professionals have loved and recommended our innovative dental care products.
Suitable For Everyone Who Enjoys Effective Dental Care
Whether it's for you or your family, nothing beats a healthy dental care that makes the biggest of differences in your lives.
Ingredients
Active Ingredients

Oxygene® (Sodium Chlorite): Disrupts bacterial colonization, oxidizes volatile sulfur compounds, stops bad breath, helps disinfect.

Xylitol: Inhibits the growth of the bacteria that causes cavities.

Essential Oils: Naturally flavored using a unique blend of soothing essential oils.

Zinc: Counteracts the toxicity of volatile sulfur compounds and inhibits oral odors.
Ingredients:
Calcium Carbonate, Water (Aqua), Glycerin, Sorbitol, Sodium Lauryl Sulfate, Chondrus Crispus (Carrageenan), Stabilized Chlorine Dioxide (Oxygene®), Natural Flavor, Mentha Arvensis (Mint) Leaf Oil, Menthol, Sucralose.
Recommended Use
How to Use
Shake well before using. Swish one or two capfuls for a minimum of one full minute. Refrain from rinsing, eating or drinking for up to 30 minutes.