Description
Best ear cleaner on the planet
Cleaning your pet's ears is no longer a chore, thanks to Oxyfresh Pet Ear Cleaner.
This safe, gentle ear cleaning solution makes it quick and easy to remove wax buildup, dirt and mites, leaving your pet with clean, fresh-smelling ears. (Seriously, no one likes STINKY pet ears!)
Alcohol-free with no harsh chemicals, Oxyfresh Pet Ear Cleaner won't sting or burn your pet's sensitive ears like store brands can. And no residue is left behind to cause irritation.
Did you know?
Keeping your dog's ears clean is the best way to avoid painful ear infections. Ear infections are the most common, yet often overlooked, health issue in dogs. And cats suffer from ear infections too!
Signs of ear infection
Shaking of the head or scratching at the ears
Discharge from the ears, especially if moist
Abundance of wax in the ears
Odor from the ears
Red or painful ears
Swollen ears
Head tilt
Problems with balance
Active Ingredients
Oxygene® (Sodium Chlorite): Disrupts bacterial colonization, oxidizes volatile sulfur compounds, eliminates oral odors, disinfectant properties.
Benefits
Safe, effective, and non-toxic way to clean sensitive pet ears
Removes wax buildup, dirt and mites
Never stings, burns or irritates
Eliminates odors and provides relief from itching
Vet recommended, formulated for cats and dogs
Soothes ear infections and helps reduce bacterial growth
No alcohol and no harsh chemicals so it won't dry out the sensitive ear canal
With Oxygene®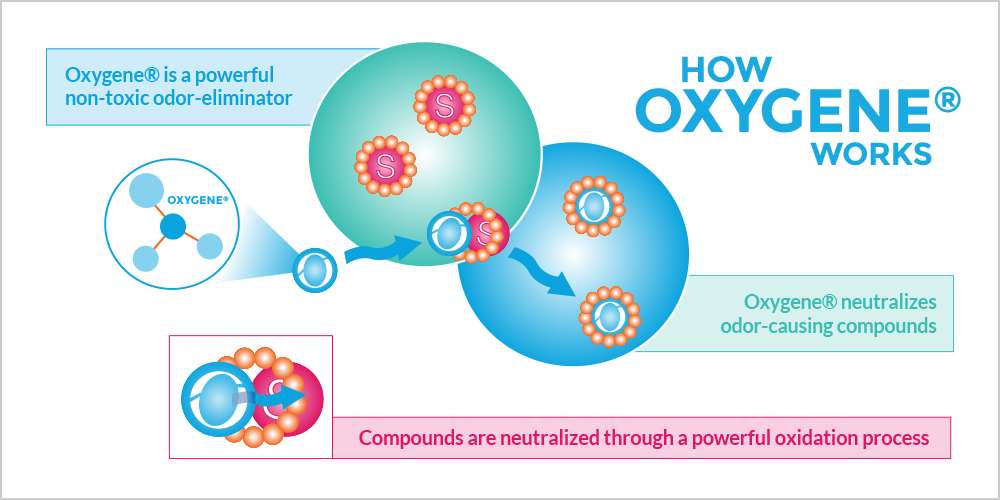 Hello, Fresh and Clean
Stinky odors don't stand a chance against Oxygene®, our exclusive ingredient proven to eliminate odor-causing compounds. You won't find it anywhere else.
Oxygene® safely and completely dissolves odors. This non-toxic ingredient is safe for everyone – people AND pets. We stand behind our products with a 100% money back guarantee because they work so well.
Don't let your pet suffer
Oxyfresh offers a truly unique solution to effectively soothe ear infections. What makes Oxyfresh Ear Cleaner different? It contains no alcohol or harsh chemicals and uses a natural base with good-penetrating, mild-foaming action to rapidly break up wax and debris that can lead to ear infections.
Many other brands use alcohol that can damage otherwise healthy skin in the ear canal and slow-acting surfactants that need significant time to work, leaving an undesirable coating behind.
Oxyfresh Ear Cleaner quickly and comfortably removes oils, waxes and debris, while our proprietary ingredient Oxygene® safely eliminates odors. The result? Your pet has cuddly-close, clean, fresh ears.
This is simply the best all-around pet ear cleaner you'll find!